Eco 1 Plumbing Blog
Plumbing Articles from Miami, FL
5 Must-Know Bathroom Trends to Avoid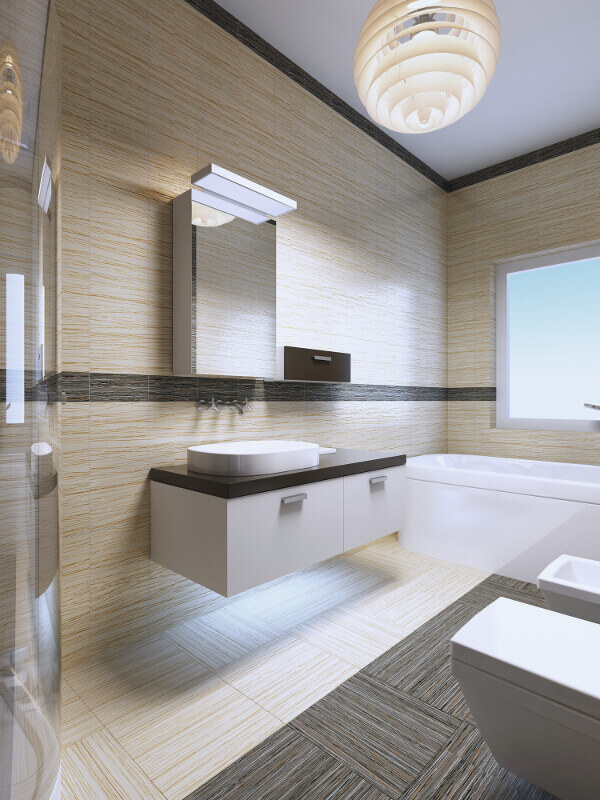 Finally, you're getting that bathroom makeover that you have been pinning on for years. Going through a Pinterest fever? We totally understand, and we know how undecided you could be about the designs and trends to go with.
There are just too many of them to choose from, some of which are great, and some that are bathroom trends to avoid entirely. When it comes to trends, the thing is that they are like love at first sight.
The minute you see one, your heart skips a beat, you absolutely want it and start planning how you'll incorporate it into your home. Until you see the next trend! You suddenly realize that you no longer want the first trend you were dying for, and you want the new trend.
This could happen countless times, so the trick here is making sure you don't settle for a trend you'll regret later on. You need to find something special that you'll appreciate in the long run and have a long-lasting relationship with. Since there are numerous trends to choose from, we will instead give you a list of the worst bathroom trends to avoid.
1. Avoid Extreme Colors
The thing is, bathroom remodels are not something you can do year after year, so you want to make sure you do something you can live with for the next few years. Bold colors are one of those things as they only trend for a while and go out of style. Neutral colors like white, for instance, or spartan if you go far, will give your bathroom that clean and fresh look you desire.
There are many ways you can balance your bathroom colors with a neutral color and hints of your favorite bold color here and there without going all-in on the bright colors. Mustard yellow and bold orange may seem dashing and beautiful right now, but a few months or years, it most probably won't.
If you're pining for the mustard, instead of painting the whole space, why not incorporate muted pastels such as fixtures, vanity, or other accessories to liven up the space. If you want depth and balance, why not go for black? Black adds depth and boldness that doesn't come with any other color, and it never gets old.
The trick here is not to overdo it and add it in low contrast. If, for instance, if you pair it with warm wood colors, you'll get a laid back beautiful style. Even if you don't like black, choose your preferred neutral color, then incorporate some bold colors of your choice to create the perfect palette.
2. Reconsider Floating Sinks
Floating sinks may be trending right now, but they may be one of the biggest bathroom trends to avoid. You see, floating sinks, as good as they may look now, are not the most practical option you can get. They don't come with the extra storage space your bathroom needs, and you won't be able to keep up with this minimalist design without a place to stash all your beauty and bathroom products.
Floating sinks give a bathroom that ultra-luxe appeal that makes them hard to resist, but they also take up too much space. Most of the time, they only fit well in master bathrooms or statement vanities and have to be professionally installed to avoid water splashes to the rest of the bathroom.
As far as sinks, and bathroom trends to avoid go, you may also want to avoid marble countertops. Marble stains and etches easily, requiring constant maintenance and care to keep its glow. It may be an appealing option and a trend you don't want to miss out on, but it's not practical either, and you'll have a hard time maintaining it.
Go for a trendy vanity instead that will go well with your overall design, color palette, and storage needs. Choose something that's cozy, practical, and easy to maintain for now and the future.
3. Avoid Cement Tiles and White Grout
Tiles are an incredibly vital part of a bathroom, and the ones you choose will play a significant role in the overall look of your space. You want something sturdy, durable, and striking, but cement tiles may not be the answer. Cement tiles are some of the most trending tiles for bathroom use, and most people are simply yearning for them.
If you fall into that category, you may want to rethink your options. Although they are characterized as having unparalleled texture and depth, they are expensive, hard to maintain, and quite overused. These tiles will stain within the first day of use, and once they patina, you may feel like they were just a waste of money.
Instead, go for tiles that will ensure splashes, scuffs, and spills without giving you a hard time. Long-wearing, hardy, and long-lasting tiles include natural stone, glass, and porcelain. Beyond that, white grout stains too easily and looks awful as soon as it encounters dirt.
4. Avoid a Fleeting Design
Fleeting designs are hot in the market but are among the bathroom trends to avoid. You are looking for something that will bring you happiness for years to come, and what you need is a beautiful and yet functional design. Instead of going for geometric angles, pattern tiles, bohemian decor, or vintage colors, why not go for a safe transitional design?
Transitional bathroom designs remain trendy because of their allure and appeal to blend, which blends well with traditional and contemporary designs. Your bathroom will have the elegant and streamlined approach of a modern bathroom with the warmth of a traditional one. You'll get the flexibility and the best of both worlds.
5. Avoid Bland Walls
While white remains to be the most popular bathroom color choice, white on white simply doesn't work. It has been overdone through the years, but it always looks sterile and boring. Even if you like white, add subtle splashes of bold colors here and there.
Patterns, colors, and materials will add contrast to your space and give it that striking and desirable look. Beyond that, choose accessories you love because even though you may not be able to remodel your bathroom any time soon, you can change accessories as you please. Use rugs, plants, artwork, and anything else that brings you joy and brings out the beauty of your bathroom.
Bathroom Trends to Avoid: Everything You Need to Know
There may be so many trends to choose from, but these are the bathroom trends to avoid. Consider functionality, beauty, and longevity as you make decisions and go for colors, styles, and designs that won't get outdated in a year or two.
For your bathroom remodel needs, please get in touch with us and check out our blog section for more bathroom remodel ideas.
Serving Miami, Coral Gables, Aventura & Surrounding Area's
© 2016-2023 Eco1PlumbingMiami.com
– All rights reserved. –
Information on this website may not be re-used without prior written consent from Eco 1 Plumbing.
Monday-Saturday: 8:00am to 5:00pm
Sunday: Client Emergencies Only
Florida Licensed, Bonded, Insured
Cert. Plumbing Contractor CFC#1428373
ASSE Backflow Certification #24253