Eco 1 Plumbing Blog
Plumbing Articles from Miami, FL
Here's Why Having a Properly Cleaned and Maintained Grease Trap is Critical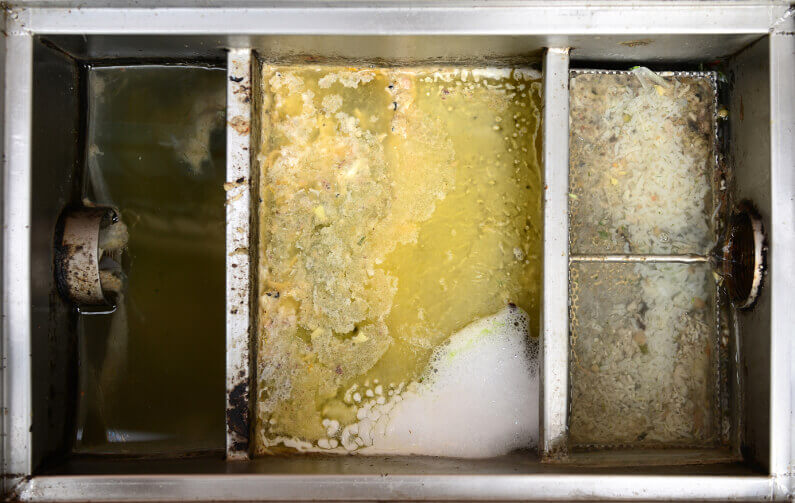 Nearly half of the United States' sewage overflows are the result of grease blockages. Pouring grease down the drain can clog your pipes and could lead to sewage issues for the whole town.
Using a grease trap can prevent these clogs and save you from sewage-related headaches.
If you don't properly maintain your grease interceptor, you might as well not have one. How should you take care of your grease trap?
Keep reading to find out how to effectively tend to your grease trap and why it's so crucial to do so.
What is a Grease Trap?
A grease trap or grease interceptor is an apparatus that separates grease, oil, and fat from the rest of your dirty dishwater. It prevents those substances from entering your plumbing system and causing blockages.
Most restaurants are required by law to install a grease trap to prevent pollution in community sewage systems.
There are two main types of grease traps: interior and exterior.
Interior kitchen grease traps are most common in residential homes and small restaurants. These hold smaller amounts of grease than exterior traps.
Exterior grease traps are most commonly found outside of large commercial kitchens. These can hold thousands of gallons of grease.
How Does a Grease Trap Work?
A grease trap allows kitchen workers to wash their dishes without having to scrape every last morsel of grease into the trash.
When you wash dishes, the greases and fats go down the drain with everything else. The grease trap intercepts that greasy water.
Once the water is in the trap, it cools the water down so that the grease hardens. This allows for the separation of grease from the water and it floats to the top.
The grease interceptor doesn't get rid of the grease. This is why proper maintenance is so vital to having a fully functional grease trap.
Proper Installation
The first step to having a working grease trap is being certain that it's installed the right way. Grease traps that are set up wrong from the start can let grease into the sewage systems.
Unless you just got your grease interceptor cleaned, there should be grease in it at all times. If you notice that your trap is absent of grease or has very little, it may not be installed correctly.
If you want to be sure your trap is installed the right way, hire a professional to get the job done.
Grease traps can be very complex to install. You want to avoid being fined because your grease trap isn't working the way it should.
Consistent Cleaning
The number one reason for grease trap failure is the lack of consistent cleaning of your grease trap. Either you aren't getting it cleaned often enough, or you aren't effectively cleaning it.
Most states require you to clean your grease trap every 60 or 90 days. The best way to keep a consistent cleaning routine is to schedule regular services with professionals.
Having regular services set up will hold you accountable. It will also create a convenient schedule for your busy restaurant.
Hire Professionals
When it comes to your restaurant's plumbing, you cannot do it all by yourself. Hiring professionals will cost money, but it will save you money along with time and stress in the long run.
If you try to clean your grease trap by yourself you could cause more problems. Some people try to do it on their own with solvents that don't get rid of the grease.
Improper cleaning of your grease trap could result in breaking it altogether. You also run the risk of getting grease into your drains, which can cause pest problems and an awful smell.
If you run into this issue, set up a professional drain cleaning service so you don't back up your plumbing.
The fact is, professionals are trained and do these services every day. They also have a better understanding of state regulations to protect you from the law.
Yes, you will have to invest in these services. Isn't that a lot better than having to shut down your restaurant indefinitely?
Limit Food Waste
Another great way to keep your grease trap well-maintained is to limit the amount of food waste you allow in your drains. If you scrape animal fatty foods into the trash before you dump your dishes in the sink, you'll save yourself a lot of headaches.
You won't be able to eliminate all the grease, but it will reduce the strain on your grease interceptor. Less grease in the trap makes for a hassle-free cleaning service when your scheduled time comes around.
Use Strainers
Using strainers in your sink can also save your grease traps. A strainer will reduce the number of solids that flow into your trap.
You want to keep solids from entering your grease interceptor. Too many solids can clog it and keep it from separating the grease, resulting in grease flowing into sewage systems.
A strainer is the best way to ensure your trap stays solids-free.
Line Jetting
An effective preventative method to keep your grease interceptor well-maintained is line jetting.
Line jetting is an extremely powerful form of pipe cleaning. If done right by a professional, it can keep your trap efficient for a long time.
Forceful water jets are used on the inside of your pipes to clear out any unwanted debris. This is a great way to ensure your drains stay unclogged and allow your grease to reach the grease trap.
Scheduling a line jetting service with a professional plumber is the best way to go.
Trap That Grease
There are many cogs in the metaphorical machine of a grease interceptor. The most important takeaway is that professional grease trap services are the only way to be sure your trap is taken care of.
Now that you understand the importance of keeping your grease trap well-maintained, it's time to take action.
Stop stressing over your grease trap! Visit our website to request a free quote with Eco 1 Plumbing today.
Serving Miami, Coral Gables, Aventura & Surrounding Area's
© 2016-2023 Eco1PlumbingMiami.com
– All rights reserved. –
Information on this website may not be re-used without prior written consent from Eco 1 Plumbing.
Monday-Saturday: 8:00am to 5:00pm
Sunday: Client Emergencies Only
Florida Licensed, Bonded, Insured
Cert. Plumbing Contractor CFC#1428373
ASSE Backflow Certification #24253