Eco 1 Plumbing Blog
Plumbing Articles from Miami, FL
Kitchen Couture: 7 Kitchen Remodeling Tips for a Smoother Process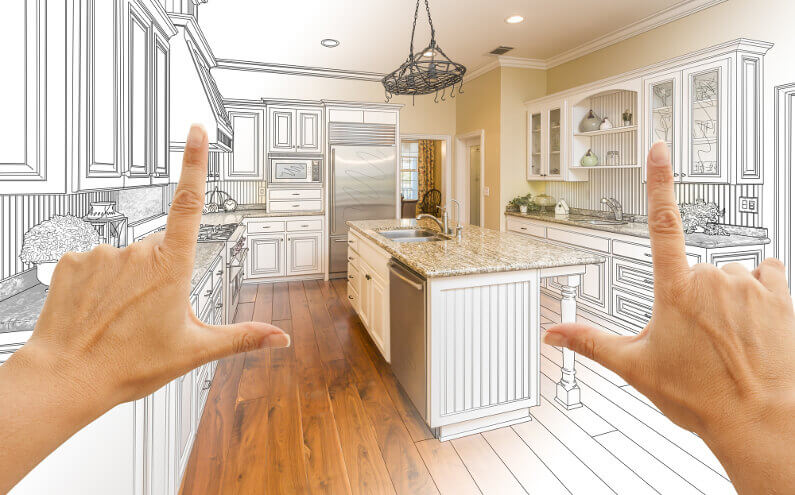 Whether you've just moved into a new house or have lived in your current one for a while, you might be thinking of doing a kitchen remodel.
While it may seem expensive, you can recoup anywhere from 64.9% to 83.1% of your costs. With these numbers, it's well worth redoing your kitchen to not only have a better cooking space, but also a better resale value for your home.
However, renovations can be quite complicated. If you need some help with kitchen remodeling, then keep reading. We'll give you seven tips for a smoother process!
1. Have a Vision Ready First
Just because you want to do a kitchen remodel doesn't necessarily mean you already know what you want. Perhaps all you know is you hate your current kitchen, and you want it gone, pronto!
But it's not wise to just dive off the deep end without a game plan. Even if you're normally a whimsical person, this won't work out for a kitchen remodel.
What you need to do is sit down and look at your current kitchen plan. Then, determine exactly what you want to be removed and/or replaced.
By having a vision ready first, this can help you stay on track with both your schedule and budget.
2. Don't Forget About the Lighting
While the lighting in your kitchen may seem adequate right now, that may all change after you remodel. When you have your vision of your new kitchen ready, then consider where you need to add lighting to make your kitchen not only brighter but also safer.
A good choice is under-cabinet lighting. This option is very affordable and provides great lighting for anything you do in the kitchen.
3. Think About the Flooring
When you're planning out your kitchen, you may be so caught up in all the details that you forget about the flooring. If you need to renovate the kitchen, then chances are, you'll need to replace your flooring as well.
You have several choices here, such as cork, linoleum, stone, tile, vinyl, or even carpet. Whatever you choose, make sure it doesn't clash with the rest of your new kitchen.
And if you're not sure which material is best for your needs or budget, always feel free to ask a professional. They'll know what's optimal for your cooking style and also your personal style!
4. Figure out Your Budget
After you've figured out what you envision for your new kitchen, then you need to figure out your budget. Most of the time, home renovations will go over budget, so try and keep your budget as low as possible so you can account for any surprises.
Once you have a general ballpark of how much you can spend, then add up all the costs of the new things you want to put in. Remember to leave a reasonable part of your budget for the labor (we'll talk about that later).
If you find yourself going massively over budget for your new fixtures and appliances, then see if you can find any good alternatives that cost less. For example, if you love marble countertops but can't afford them, consider getting engineered quartz, which is much cheaper and looks very similar.
5. Shop Around for Contractors
No matter what you do, don't make contractor shopping a "one and done" deal. Even if you get one that seems the best around, they may not necessarily be the optimal one for your needs and budget.
Take your time to do research and get quotes from several places. Get a feel for each contractor and pick the one you feel most comfortable with. You need to feel completely confident about how they treat you, their experience, and their prices.
6. Prepare Your House
Once the contractors come, it's going to be chaos. Things might get strewn everywhere, dust and debris will fill your air, and your kitchen won't be usable for a while.
This means you probably won't be able to cook and you'll have to find some alternatives for food, such as relying on your microwave or going out to eat instead.
You'll also have to consider where your fridge will be during the renovation. If it's not possible to move it, you may have to get a second, smaller refrigerator to put in another room so you have access to some foods and drinks.
Gather some utensils, plates, bowls, cups, and glasses, as well as other necessities you think you'll need from the kitchen. Don't forget your coffee maker! That way, they'll all be in a convenient spot, rather than somewhere you can't reach, covered in dust and debris.
7. Make Arrangements for Pets
Home renovation projects can be very confusing and scary for pets, especially if there are lots of loud noises. If you don't have a safe area for them that's completely away from the kitchen, then consider making arrangements for them to be away.
Whether this is with a relative or the kennel, make sure to do this well in advance. That way, you won't be scrambling to find someone to watch your pets when the kitchen remodeling is already well underway.
Make Kitchen Remodeling Easier by Following Our Tips
Kitchen remodeling can be a daunting project, but it doesn't have to be if you have the right contractors by your side. We at Eco 1 Plumbing are certified plumbing contractors and have over 25 years of experience, so you know you can count on us to get the job done right for you.
Do you need a reliable and reputable plumbing company to help you with your kitchen remodel in the Miami-Dade area? Then get in touch with us now for your free estimate!
Serving Miami, Coral Gables, Aventura & Surrounding Area's
© 2016-2023 Eco1PlumbingMiami.com
– All rights reserved. –
Information on this website may not be re-used without prior written consent from Eco 1 Plumbing.
Monday-Saturday: 8:00am to 5:00pm
Sunday: Client Emergencies Only
Florida Licensed, Bonded, Insured
Cert. Plumbing Contractor CFC#1428373
ASSE Backflow Certification #24253