Eco 1 Plumbing Blog
Plumbing Articles from Miami, FL
Trendy Toilets: 8 Beautiful Trends for Bathroom Updates and Remodels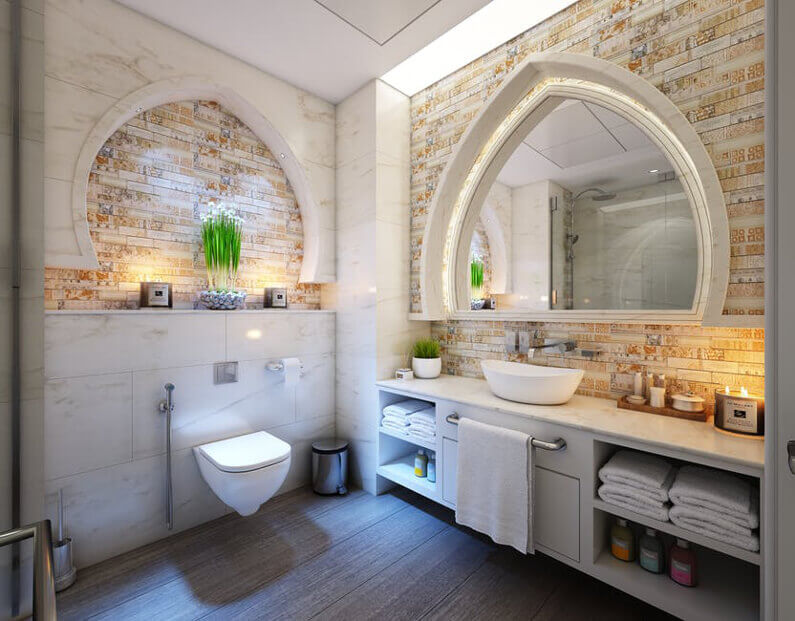 Even though bathrooms are functional, it doesn't mean we can't splash out and get creative with designing them. As with every year, 2020 has brought some exciting trends to help us execute unforgettable bathroom updates.
Not sure where to begin? Here are 8 ways to liven up your bathroom today.
1. Make a Statement
Regardless of your powder room's size, make a singular, extravagant statement. For example, introduce oversized floral wall prints or use a sophisticated piece of art to use as your bathroom's focal point.
You can even use colorful accents, fixtures, and accessories to add playfulness to your powder room. These bursts of color work well with a neutral light or dark shade. Also, find a palette to set the right mood. For example, a splash of blue increases relaxation while green improves your mood.
2. Pewter and Gunmetal Hardware or Black
One of the latest bathroom trends is using pewter and gunmetal hardware for fixtures to add texture and depth. Or, if you're feeling more bold, dark, and sultry bathroom designs have re-emerged to emulate a high-end, spa experience.
People no longer want to use the bathroom for practical purposes but to create a theatrical beauty in the design.
3. Floating Vanities or those in Front of Windows
If you're after small bathroom updates, have fun experimenting with your vanities. You can either get a small one and stand in front of a beautiful view. Or suspend mirrors from the ceiling or add a mirror on the end wall of the sink. It's not only an elegant transformation for your bathroom but the lighting is also great.
Floating vanities are another trend. Wooden vanities are seamless and airy which is what 2020 design is all about. Another plus is that they are easier to clean than other options.
4. White and Gray Marble
Marble will always be a classic, whether it's in your kitchen or your bathroom finishes. Man-made materials like quartz and porcelain tiles also look like natural stones and are revered because of their durability and timelessness.
This year we've seen larger one-piece marble slabs that cover the floor to ceiling in many bathroom updates. Even though it is more expensive, white and gray marble is a lifelong trend that will make your bathroom stand out and increase the value of your property.
If you don't want to drench your bathroom in marble, you can use two pieces of marble to mirror each other (called book-matched marble), for a sophisticated look.
Even though marble comes in an assortment of colors, try not to go overboard with the shades and patterns. The best way is to stick with monochrome otherwise it will leave your powder room looking chaotic.
5. Concrete
If you love brutalist design, then this one is for you. You can apply concrete to sink basins, countertops, floors, and walls. Concrete has often been seen as unwelcoming but if you match it with woods, porcelain, and resin, you'll notice this material ties the room together.
Another great way to bring concrete to life is by adding low-maintenance houseplants to add a softer touch.
6. Statement Mirrors
No bathroom is complete without a mirror but you don't always have to follow the traditional route. You can hang a mirror with an unusual shape such as an asymmetrical design to give your space a fresh look without breaking the bank.
Some mirrors even have anti-fog technologies, smart touch abilities, and USB charging stations to keep your devices juiced up. Back-lit mirrors, in particular, are a subtle way to allow optimal lighting and are a life-saver when getting ready.
7. Shower Stall Variations
Remodeled bathroom showers are another trend, especially when in an enclosure. Shower stalls are available in many sizes, designs, and hardware selections. For example, you could use a black matte or lacquer to add a dash of luxury to your bathroom.
You can also find shower stalls with unique glass patterns for a sophisticated way to embrace color, texture, and delicate craftsmanship.
8. Technology
Like every aspect of our lives, technology has now crept its way into our bathrooms.
In 2019, high-tech toilets were all the craze. Our lavatories boasted seat warmers, automatic lid openers, and even built-in deodorizers.
Now, we welcome even more technological advances. Underfloor heating systems and under-counter appliances have become the smartest bathroom trends to invest in. For example, some luxury bathrooms have installed beverage centers or under-the-counter fridges to store makeup or medicines.
Some bathroom designs have warming drawers for linens and robes (perfect for cooler months!), and wireless music systems or TVs to keep you entertained as you bathe. You can even incorporate smart controls to operate your shower at a preset temperature with a press of a button.
And for all sauna lovers out there, you can even use infrared saunas to give you instant health benefits without having to install a clunky regular sauna.
Which Bathroom Updates Are Your Favorite?
From luxurious marble countertops to accented walls, there are many creative ways to personalize your bathroom. There are many inspirational trends we can choose from to ensure our powder rooms are both practical and stylish.
And if you have a larger budget for your bathroom updates, why not invest in smart technology to make your life easier and boost the value of your home? Happy designing!
If you're Miami-based and need a plumber, we'd love to hear from you. Contact us here for more details.
Serving Miami, Coral Gables, Aventura & Surrounding Area's
© 2016-2023 Eco1PlumbingMiami.com
– All rights reserved. –
Information on this website may not be re-used without prior written consent from Eco 1 Plumbing.
Monday-Saturday: 8:00am to 5:00pm
Sunday: Client Emergencies Only
Florida Licensed, Bonded, Insured
Cert. Plumbing Contractor CFC#1428373
ASSE Backflow Certification #24253