Eco 1 Plumbing Blog
Plumbing Articles from Miami, FL
7 Amazing Benefits of Installing a Bidet Toilet Combo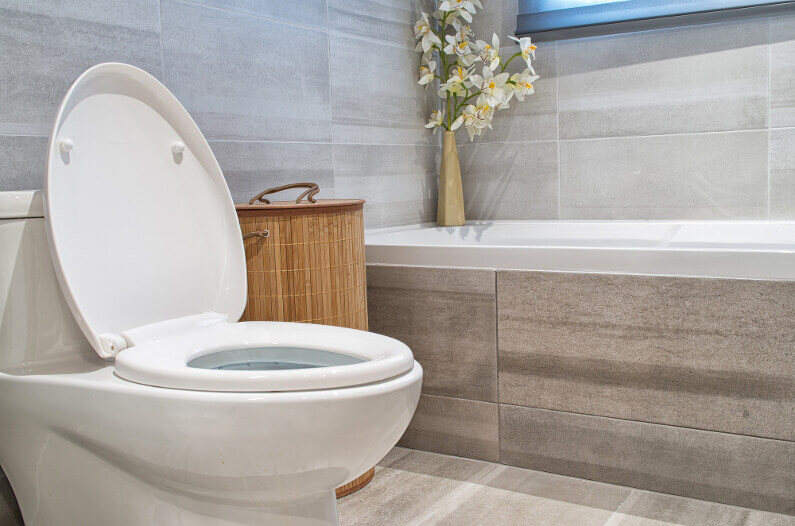 If you've visited Versailles in Paris, perhaps you snapped a photo of one of Madame de Pompadour's personal belongings—her circa 1751 rosewood-veneered bidet. It wasn't only members of the French who owned bidets. Napolean Bonaparte carried his silver-lined bidet with him when he traveled.
Personal hygiene has come along way since the 18th century. Now, instead of a porcelain bowl painted with delicate flowers, you can show off a modern bidet toilet combo!
If you've never considered a toilet with a built-in bidet, don't stop reading. Take a minute and explore the seven benefits of installing this amazing cleaning system for your private parts.
1. Saves Space in Smaller Bathrooms
If you're building a new home and can afford the square footage, you're likely not concerned about the space taken up by a separate bidet. For the smaller bathroom, however, the bidet toilet combo makes more sense.
When calculating a bidet's real estate, keep in mind it takes up about as much space as a standard toilet.
Whether you're remodeling a bathroom or installing in a new build, you'll want to know about code requirements. For your installation to pass inspection, you must have at least 15 inches between the wall and the centerline of a bidet or toilet. The rule also applies to space between fixtures.
The average bathroom can't accommodate a bidet and toilet side-by-side. Combining the two into one unit makes it possible to install in even the smallest bathrooms.
If you're already thinking about a bathroom remodel, you should consider a bidet toilet.
2. Makes it a Cinch to Get Clean
If you've used a standard bidet, you already know it adds time and effort to the personal hygiene routine, especially if you're arthritic or disabled.
A toilet with a built-in bidet makes getting clean easy.
First, you don't need to perform the acrobatics, sometimes required to move from the toilet to the bidet. Second, the combination of toilet and bidet cleans more thoroughly. This is a welcome benefit for a person who suffers from hemorrhoids or intestinal issues.
The toilet bidet sprays water either to your backside or the front. You can leave the bathroom assured you don't leave anything behind, including tiny pieces of bathroom tissue.
Speaking of clean, what do you suppose is more hygienic, water, or toilet paper? Read on to find out!
3. Bidet Toilets Offer a More Sanitary Cleansing
Many people experience issues with toilet paper due to irritation. That shouldn't surprise anyone—the materials used to make toilet paper include trees, chemicals, and bleaches.
Do you still feel comfortable using even the softest bathroom tissue to wipe some of the most delicate parts of your body?
The more effective and sanitary way to get your private parts clean is to use a bidet toilet. Instead of wiping and irritating the area with paper, you'll get a gentle cleaning with water.
Furthermore, if you have an electric toilet bidet seat, you may have a feature that automatically cleans the nozzles.
4. An Environmentally Friendly Bathroom Solution
Did you know Americans hugely contribute to deforestation through their use of toilet paper? It takes around 15 million trees to make the 36.5 billion rolls of bathroom tissue demanded by people in the U.S. each year.
To get from tree-to-toilet paper, manufacturers use ridiculous amounts of electricity, water, and chemicals, like chlorine.
Do your part to help the environment and install a toilet bidet combo. You can get away with using little to no toilet paper.
5. Consider the Money You Could Save
Knowing how many rolls you use every year, how much do you think you spend? The average family uses around 409 rolls of bathroom tissue per year at an average cost of $3.00 per roll.
Why pay over $1000 on paper when for just a bit more, you could install a toilet bidet? Even if you use the cheaper single-ply paper, you'll save money by opting for a toilet with a bidet seat.
6. Your Plumbing System Will Thank You
If you're looking for a way to minimize plumbing problems, look to the bidet toilet combo.
Since you'll use less toilet paper, you won't have as much flushing down the drain or going into your septic tank. When you reduce your use of toilet paper, you also reduce the number of clogs in your system.
Let's talk for a minute about flushable wipes. Many people look at them as a convenience, but they're a culprit in the frequent clogs in city sewer systems. Eliminate messy, costly repairs by installing a bidet toilet.
7. Ideal for the Entire Family
You may think the women in the house get the most benefit from using a toilet bidet. After all, they do offer an excellent solution for maintaining feminine hygiene.
Bidet toilets are not only for women! Men also appreciate a gentler cleaning after using the bathroom.
If your household includes someone with arthritis or another disability that makes it difficult to wipe, you'll make their life more comfortable when you install a bidet toilet combo. Incontinence is a reality for some people as they age. A bidet toilet helps them stay fresh as often as they need to throughout the day.
Perhaps you're the caregiver for someone who can't take care of personal hygiene on their own. A toilet with a built-in bidet can give a person back their dignity. It can also make your job a little easier.
Ready to Install a Bidet Toilet Combo?
If you're looking for the best of both worlds, maybe it's time to shop for a bidet toilet combo. With the many benefits, such as a more pleasant and hygienic bathroom experience, savings on toilet paper, and the lives of trees, as well as less stress on your plumbing system, why not take the plunge?
The best bidet toilets combine the most popular features of both the toilet and the bidet. You'll find a wide range of models sure to fit you and your household's needs.
For help selecting and installing your new toilet bidet, contact our team today.
We're also available for any other plumbing services you need. With 25 years of experience in the plumbing industry, we can handle your issue. There's no job too big or too small!
Serving Miami, Coral Gables, Aventura & Surrounding Area's
© 2016-2023 Eco1PlumbingMiami.com
– All rights reserved. –
Information on this website may not be re-used without prior written consent from Eco 1 Plumbing.
Monday-Saturday: 8:00am to 5:00pm
Sunday: Client Emergencies Only
Florida Licensed, Bonded, Insured
Cert. Plumbing Contractor CFC#1428373
ASSE Backflow Certification #24253