Eco 1 Plumbing Blog
Plumbing Articles from Miami, FL
How to Tell If Your House Plumbing System Is Bad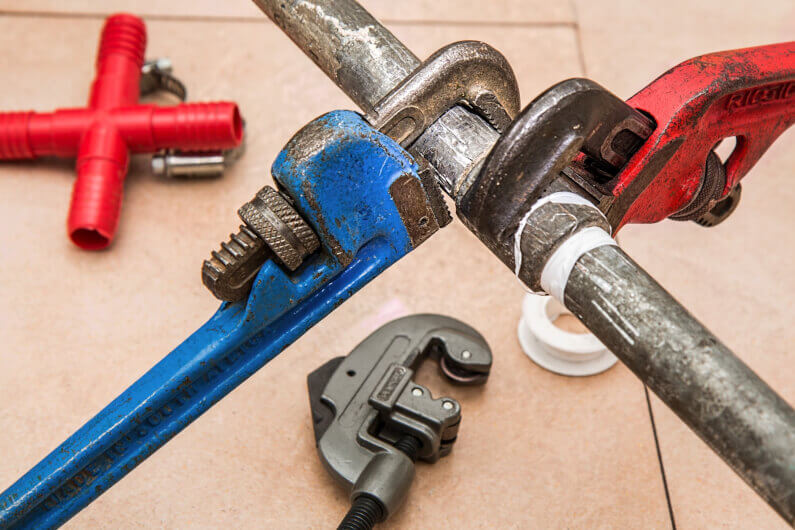 Did you know that a leak in your home's plumbing system can waste up to 9,400 gallons of water yearly? If the leak goes unchecked, your water bills will rise, and you may experience a water shortage.
Most plumbing issues go undetected for a long time and become a nightmare when they reach a breaking point. You wouldn't want to have mold problems and unpleasant smells in your home. Furthermore, the damage to the house plumbing system can be costly and time-consuming to fix when neglected.
Before seeking a plumber's help, you need to identify signs of leaks or water damage around your house. In this article, we'll discuss various ways to diagnose a defective plumbing system:
1. Signs of Wear on the Plumbing Pipes
Always check pipes passing under your sinks and basement for any visible signs of wear. Green or white discoloration around the seams and joints of copper water pipes may suggest that they're leaking. If you have galvanized steel or cast iron pipes, red patches on them may signify wear.
You may need to replace the pipes if the tubing has flakes or dimples. The flakes develop as a result of corrosion.
Check the surfaces that lie next to your water pipes for any sign of damage. Stains on these surfaces may suggest that a water leak is present.
2. Discolored Water
If your tap water is brownish, greenish, or yellowish, chances are that the pipes are corroded. The water may get discolored when it gets into contact with rusted water pipes. If you have copper water pipes, greenish water coming from the faucet may suggest excessive corrosion.
The tap water may also be excessively cloudy due to the air locked in the pipes. Air bubbles trapped in the water may contain unsafe chemicals or pathogens. Discoloration and cloudiness may imply that your tap water isn't safe to drink.
Your tap water may have an unusual color due to outdated pipe materials. Old water pipes made of steel and iron are highly susceptible to rusting. When corroded, manganese and iron get into the water and give it a pale brownish color.
3. Sluggish Drains
The most common slow drain cause is a clog brought by grease, fat, or soap. These materials choke the plumbing system and limit water flow. You can solve this problem using a drain snake and power drain clearing solution.
A sluggish house drain plumbing system may be a huge concern if it won't clear up even after you intervene. If it persists, this problem may suggest that your modern house plumbing system is defective.
If you notice that multiple drains in your home are slow, get your house plumbing system fixed. This issue may suggest that your sewer line needs a thorough cleaning.
Sewer line blockages may occur if tree roots invade the pipes or there are cracks in the pipes. The pipes may also get brittle as they get old. Either way, the blockage will result in water flowing back up to the pipes instead of going down the drain.
4. A Sudden Rise in Water Bills
Striking water bills may suggest changes in a typical house plumbing system. Leaks in your water pipes may divert water elsewhere and increase the meter readings. When you fail to have this problem fixed, the cracks in the pipes may widen, causing further loss.
Your water bill may also shoot up due to a leak in the toilet that makes it flush continuously. The problem could also stem from a dripping faucet or service line leaks.
Combined high water usage in your neighborhood may put a huge strain on your local area water supply. Your water bills may also increase tremendously hence posing a great threat to your finances.
5. Low Water Pressure
If you notice moderately low water pressure or a slow stream, your home's water distribution system may be defective. The issue may stem from your faucet aerator if it's only visible in one location. However, if there's low water pressure in multiple parts of your home, the local water supply may be ineffective.
Low water pressure may also imply a leak in the water pipes if accompanied by other signs. These signs include water damage on the walls, water discoloration, and high water bills.
If water flows at low pressure or completely stops flowing to your faucet, chances are that the pipes are frozen. This problem may cause a sudden water shortage. A plumber can help you get the water pipes in good working order.
6. Sewer Odor
Residential sewer lines are usually designed to keep sewer gas from inhabiting living spaces. The sewerage system comprises vents that channel foul sewer odor to the roof. However, if there's a smell of sewer gas in your home, there might be a problem with the sewer line.
Sewer gas usually smells like sulfur, human excrement, or rotten eggs. As it seeps into your property, it may make your living spaces less habitable. You also risk contracting a respiratory infection if you inhale the gas for a long time.
Foul odor coming from the kitchen sink may be brought by the buildup of decaying food scraps. The smell may also come from the leaks in the house plumbing vent system. If the smell comes from all drainage lines and it's accompanied by flogging, the sewer line may be defective.
7. Signs of Water Intrusion in Your House and Yard
A sunken or soft spot in your yard may imply that there's damage to your water pipe. You may also notice a green patch on a small section of the yard if the sewer line is faulty. This problem usually occurs because sewer lines flow through the yard.
If you notice any sudden sagging in your carpet or flooring, chances are that the water pipes are defective. That's because drain lines and water pipes pass under the slab. If you spot brown or black patches on your walls or ceilings, there might be a leak coming from pipes underneath the surfaces.
Get Your House Plumbing System Fixed Today
Don't let a water leak or sewer leak make your house less habitable for you. The tips discussed here will help you save your house plumbing system from further damage.
Are you looking for dependable and licensed plumbers in Miami, FL? Count on us for fast and reliable plumbing solutions. We'll work around your unique schedule for a hassle-free experience.
Serving Miami, Coral Gables, Aventura & Surrounding Area's
© 2016-2023 Eco1PlumbingMiami.com
– All rights reserved. –
Information on this website may not be re-used without prior written consent from Eco 1 Plumbing.
Monday-Saturday: 8:00am to 5:00pm
Sunday: Client Emergencies Only
Florida Licensed, Bonded, Insured
Cert. Plumbing Contractor CFC#1428373
ASSE Backflow Certification #24253